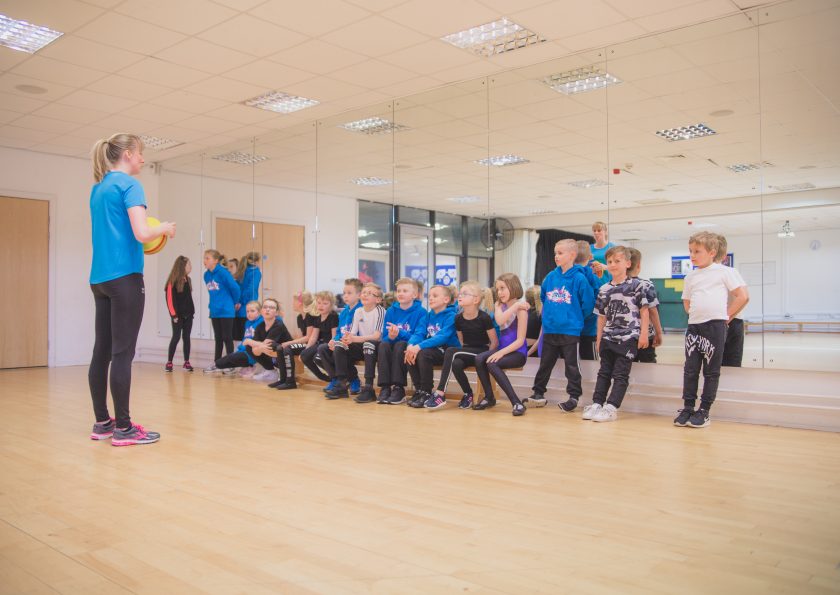 Fit 4 Work, Fit 4 Life: Darlington Education Project: 
Nouveau Wellbeing and  Queen Elizabeth Sixth Form College worked in partnership to engage 152 students in fun and interactive dance and fitness sessions. Through case studies, questionnaires, activity diaries and group discussion we were able to identify that this had contributed towards:
– Improved confidence
– Increased physical activity levels
– Increased awareness of the importance of physical activity in relation to physical and mental health
– Increased awareness of the importance of keeping fit and healthy in relation to educational success and working life.
45 young people were recruited as Dance and Fitness Activators volunteering time to co-teach, promote activity and share learning.
Jordan aged 14, enjoys playing computer games and hanging out with his friends. He heard about the project whilst attending PE and thought it might be something that he would enjoy. Being able to build his upper body strength is something that he most enjoyed and as a result has made him feel more confident. He encouraged more of his friends to join the project and they now continue to workout together.
Ewan aged 15, enjoys reading, playing games and cycling. Since participating in the project he feels more positive about himself and says he now enjoys fitness, particularly group exercise. The part he enjoyed most about the project was being able to compete against his friends.
The Big Stride Project:
The Big Stride Project ran over 12 months to engage 90 children and young people in creative dance activity to build confidence and self-esteem, develop friendships, increase positivity and raise aspirations. For young people less able to talk about difficult issues concerning them, dance can be a form of expression and release.
The Big Stride Project was designed to send out anti-bullying messages and build confidence, to increase self-esteem and feelings of self-worth. Through the promotion of friendship the groups were encouraged to put trust
in one another through games and dance activities.
"This is a nice group, I've been able to talk and share things."
"I feel more confident to be able to stop the bully's now."
"When we come here we feel safe and that no bullying will ever happen in this group."
The project funded by East Durham AAP engaged children and young people in four, 12 week anti-bullying themed creative dance programmes. The programmes took place in four community venues across East Durham.
In addition to the 'anti-bullying' focused sessions and to continue the positive experience, additional gifted and talented programmes were run throughout the course of the funding. Young people became part of these programmes by expressing an interest in developing their dance skills further. These young people received support and advice on how to develop further, and are completing Arts Award Qualifications as a result of the Project.
"It's given us new opportunities like dancing for the Christmas lights switch on and doing the Arts Award and Keyfund."
"Some of us want to study sport and dance when we leave school so it will be really helpful with that."
Sign, Sing and Shimmy: 
Being able to communicate is one of the most important skills we need in life. Almost everything we do involves communication; everyday tasks such as learning at school, asking for food and drink, sorting out problems, making friends and having fun. These all rely on our ability to communicate with each other. That's why we introduced our Makaton 'Sign, Sing & Shimmy' project in Stockton.
Sign, Sing and Shimmy incorporates Makaton which uses signs, symbols and speech to help people communicate. Signs are used, with speech, in spoken word order. This helps provide extra clues about what someone is saying. Using signs can help people who have no speech or whose speech is unclear. Using symbols can help people who have limited speech and those who cannot, or prefer not to sign.
"For those who have experienced the frustration of not being unable to communicate meaningfully or effectively, Makaton really can help. Makaton takes away that frustration and enables individuals to connect with other people and the world around them. This opens up all kinds of possibilities."
The Makaton Charity
Sign, Sing and Shimmy is a programme aimed at young children and their families. Through a range of fun action songs and rhymes, dances and stories, children will learn whilst having fun, and the use of Makaton will be encouraged throughout to support meaning and instructions. The children we have been working with in Stockton have really enjoyed there sessions and have begun using Makaton in there day to day lives. Teachers from some of the schools we have worked with have also commented that the sessions have helped to improve communication in their classrooms.
Community Wellness Project:
At the beginning of 2015 we were overjoyed to be awarded a grant from Reaching Communities Big Lottery Fund to deliver the Community Wellness Project across County Durham, Hartlepool and Stockton-On-Tees.
The fund will allow us to increase healthy living for people and communities with three specifically designed programmes; Move with Us, Cook with Us and Community Pods to get communities active, eating healthily and encourage behaviour change for long lasting results.